Other than maximising its profits, Databus Ltd cares greatly about the environment in which we operate and our surrounding community, therefore one of our most significant aims is to fulfill our social responsibilities and with Corporate Social Responsibility (CSR) becoming a must for companies around the world, Databus Ltd is determined to take on the challenge and join the millions of other businesses that incorporate CSR in their day to day activities and make it an essential part of their operations.
As a member of The Rotary Club Limassol, the founder of Databus Ltd Louis Loizou, ensures that we make continuous donations as well as participate in frequent fundraising events prepared by The Rotary Club for Cyprus-based organisations such as the Limassol anti-cancer society and the Autistic Children Organisation. Namely these events included the 24 hour Squash marathon held in May 2006, as well as the 24 hour Tennis marathon which took place in May 2009. Both events, for which Databus Ltd was a sponsor, were extremely successful and collected generous amounts of money for charity and raised awareness for special organisations like the ones mentioned above.
In a bid to help the environment, we assemble all our unwanted and useless batteries and take them to recycling centres, thus playing our part in pollution reduction. We are also an active member of WEE (Waste of Electrical and Electronic equipment) to which we send electronic PC boards removed from UPS's among other things, to be recycled. As a member of Green Dot, we strive to use nothing but recycled paper in our offices and in turn recycle paper of our own along with discarded plastic and glass objects, tin cans and redundant documents.
When it comes to our employees, Databus Ltd runs a strict scheme of giving out bonuses according to overall working performance. One of our aims includes maintaining a friendly and positive working environment and a comfortable atmosphere where employees can feel free to express any dissatisfaction they may have. With our system of bonuses and open door to any discontent that employees may be feeling we endeavor to offer nothing less than job security and fulfillment to our workers. We also attempt to treat our employees regularly by inviting them to social events in such a way that relationships can become stronger and communication can be achieved in areas other than the workplace. Databus Ltd also takes on keen school leavers interested in electrical engineering, giving them the chance to acquire adequate experience that could prove valuable for them in the future.
Environmental Responsibility & Awareness
With regard to our environmental responsibility and to the circular economy, Databus Ltd makes a concerted effort to play it's part.
Faulty or damaged UPS units which have been replaced are returned from the client to us and kept in our warehouse for repair or for providing part replacement. It is our policy to try and save/ repair as many units as possible, in order to contribute towards the planet's circular economy.
The repaired units are either sold as second hand units or are used to support our clients in difficult times. Units which are damaged and beyond repaired are delivered to the WEEE recycle center for further processing.
Dinner

in Memory

of Chloe Kallides
12/09/2016- Dinner in Memory of Chloe Kallides*
Proceeds and Donations were contributed to: Καραισκάκειο Ίδρυμα and Παγκύπριος Αντιλευχαιμικός Σύνδεσμος «Ζωή».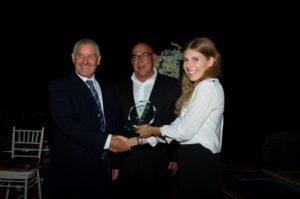 12/09/2014- Dinner in Memory of Chloe Kallides*
Proceeds and Donations were contributed to: Καραισκάκειο Ίδρυμα and Παγκύπριος Αντιλευχαιμικός Σύνδεσμος «Ζωή».

Fund Raising Dinner held at Presidential Palace Annex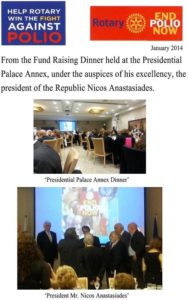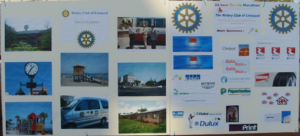 2011 Limassol Marathon
Continuing our support within the local community Databus' staff participated in the 2011 Limassol Marathon.