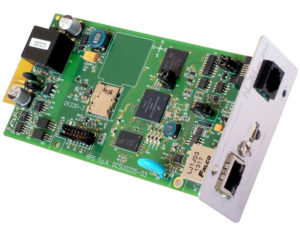 Network card
The NetMan 204 network agent allows UPS directly connected over LAN 10/100 Mb connections to be managed using the main network communication protocols (TCP /IP , HTTP HTTPS, SSH, SNMPv1, SNMPv2 and SNMPv3). It is the ideal solution for the integration of UPS over Ethernet networks with Modbus/TCP and BACnet/IP protocols. It was developed to integrate UPS into medium-sized and large networks, to provide a high level of reliability in communication between the UPS and associated management systems.
32bit RISC processor
Compatible with 10/100 Mbps Ethernet and IP v4/6 networks
Compatible with PowerShield³ and TeleNetGuard
SNMP v1, v2 and v3 with RFC1628 for PowerNetGuard and NMS connection
SNMP v1 with RFC3433 for the management of environmental sensors
HTTP and HTTPS for UPS control via web browser
SMTP for alarm notifications and UPS status updates via email
Modbus/TCP
BACnet/IP
Maximum expandability
WiFi ready, using a customized dongle can communicate via WiFi network
Events log and data management
Wake-on-LAN management for starting computers via TCP /IP network
Other standards: DHCP, DNS, FTP, NTP , ICMP , IGMP
Management of environmental sensors
Configurable via SSH sessions and HTTP
Firmware upgradeable via FTP and HTTP.