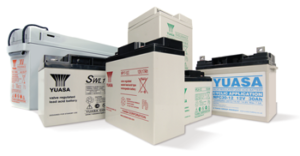 GS Yuasa are one of the world's largest global manufacturers of Lead-Acid and Lithium-ion (Li-ion) batteries. For over 30 years, GS Yuasa Battery Europe Ltd have been Europe's leading battery supplier and the number one choice for quality, performance and reliability.
GS Yuasa Europe's product range includes some of the most well-recognised, trusted and high quality battery products for use in a diverse range of automotive, motorcycle, industrial and standby power applications.
A subsidiary of the world renowned GS Yuasa Corporation, we lead the industry in the development, manufacture and distribution of energy storage solutions.
As Europe's number one battery supplier, we continue to set new standards in service, performance, reliability, choice and year round availability. Whatever the application, we have a battery to suit your requirements, supplied directly from our sales and distribution centre.
Over 60% of products are exported, mainly within Europe, with the largest markets including uninterruptible power supply (UPS), emergency backup power for computer systems, security and fire alarms, telecommunications and other applications.
In such a competitive environment, GS Yuasa has always remained at the forefront of technology whilst maintaining the highest possible standards and unrivaled reliability.
The facility produces four main product ranges, NPL, EN, ENL and SWL.
The Yuasa EN and ENL series have rapidly become the industry's choice for telecommunications, UPS and emergency lighting. These large endurance range lead acid batteries give up to 15 years of standby life, whilst their high gas recombination efficiency and sealed design eliminates the need for separate battery rooms.